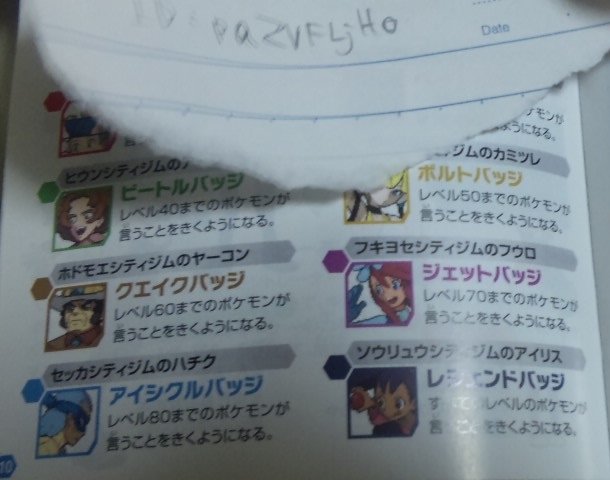 Theres the pictures and heres some information about them.
"1 ??? [Fire/Grass/Water]
2 ???
3 Hiun City Gym / Beetle Badge [Bug]
4 ??? City Gym / Bolt Badge [Electric]
5 Hodomoe City Gym / Quake Badge [Ground]
6 Fukiyose City Gym / Jet Badge [Flying]
7 Sekka City Gym / Icicle Badge [Ice]
8 Souryuu City Gym / Legend Badge [Dragon]
Gym 3 is in Hiun City with the Beetle badge. Gym 4 is in an unknown city with the Bolt Badge run by Middzu (ミッヅ), Gym 5 is in Hodomoe City with the Quake Badge run by Yakoso (ヤーコソ), Gym 6 is in Fukiyose City with the Jet Badge is run by Furou (フロウ), Gym 7 is in Sekka City with the Icicle Badge is run by Hachiku (ハチク) and Gym 8 is in Souryuu City with the Legend Badge.
It seems odd that they are reusing the name 'Icicle Badge', especially in the generation directly after. Though apparently the English translation will be 'Glacia Badge', which is still very close to the Glacier Badge from Johto...
Badges now increase the level of a traded Pokémon obeying you by 10 for each badge, until the last one which will enable all Pokémon to obey you.
8th GYM leader looks alot like Iris if you ask me.Ground GYM leader aswell.Hasnt been one of those since gen 1.